Scientists at the Centre for Ecology & Hydrology (CEH) have undertaken a new review which charts the past, present and future of climate change guidance for fluvial flood risk management in England.
The review, published by SAGE Publishing in the journal Progress in Physical Geography, was conducted in collaboration with the Environment Agency (EA) and documents how advances in the science of climate change and hydrology over the past 25 years have helped to manage flood risk. The principles can also be applied to drought management.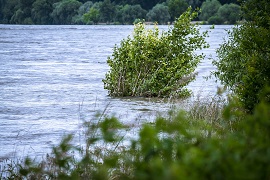 The paper calls for further research on the potential impacts of climate change on floods including incorporating changes to more short-duration, extreme events.
Lead author Dr Nick Reynard, Science Area Lead for Natural Hazards at CEH, said, "This paper illustrates a good example of how science can provide the evidence for the development of environmental policy. CEH has provided data and tools to support climate change policy and decision-making for flood management, complementing the work we do for flood risk estimation through the Flood Estimation Handbook."
Co-author Dr Alison Kay, a Senior Mathematical Modeller at CEH, suggests that: "While the overall risk of flooding in Britain is likely to increase in the future, this will vary regionally depending on differences in local catchment characteristics and the details of future climatic changes."
The EA issued new guidance for flood management authorities in England in 2011 (updated in 2016) with future impacts based upon the timeframes 2020s, 2050s and 2080s across 11 river-basin regions including Thames, Humber and Tweed.
Co-author Dr Bill Donovan, Senior Advisor at the Environment Agency, said, "This really important work with CEH helped us provide much improved guidance to our staff and professional partners. The improvements mean we are taking better steps to prepare England for the impacts of climate change while being more efficient with tax payers' money."
Additional information
Full paper reference
Nicholas S Reynard, Alison L Kay, Molly Anderson, Bill Donovan and Caroline Duckworth, 'The evolution of climate change guidance for fluvial flood risk management in England,' Progress in Physical Geography, SAGE Publishing, published 13 April 2017. Doi: 10.1177/0309133317702566
The paper is available as an open access document here.
Link to staff page of Dr Nick Reynard
Link to staff page of Dr Alison Kay